We offer you a course with the duration of one week, with accommodation included in the lovely family appartments of Dyonisos, owned by Makis and Sylvia. You have a choice between their quiet family appartments, close to the towncentre but in a quiet street, or the seafront boulevard appartments in the lively but more noisy location near the restaurants and bars. All appartments have a lovely view, most of them have seaview. They have airconditioning and a bathroom with shower, toilet and some have a bath as well. You can also book a few nights extra and pay those directly to Sylvia.
Have a look at their website here.
We also have a 2 pers. cosy logcabin with a little garden in the nature on our own estate, a 20 min. walk away from the village overlooking the sea. here are the pictures! Let us know if you prefer this one. Ideal for people who love starry skies and hiking.
The cabin costs 30 euro per night.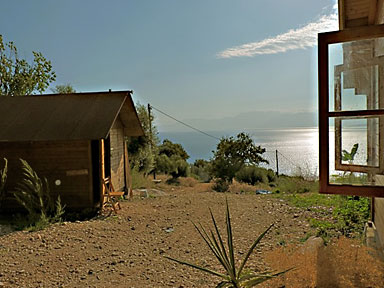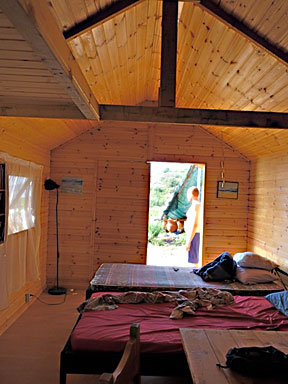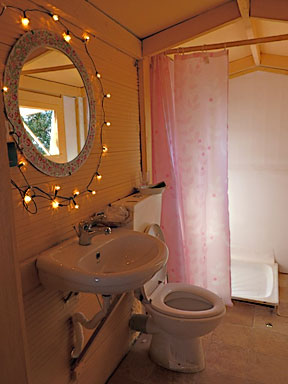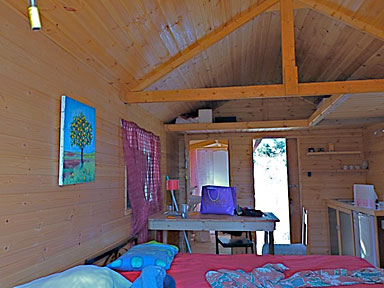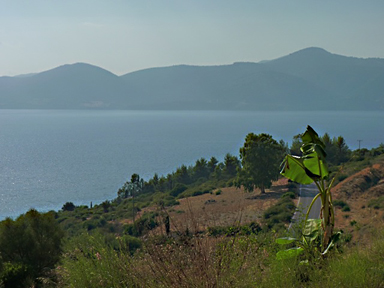 In town there are also several other appartments and hotel rooms for rent, most are owned by families who will go out of their way to give you a pleasant stay. Prices of accommodation are approx. 40 euro a night. Some travel agencies have combined packages with flight and accomodation for a fixed price. Look at our link page and see a few examples. If you book a package with them, we only charge you the costs of the painting course.
If you want to combine your paintingholiday with an extra stay on the island of Lefkada, we recommend the lovely hotel Aigli, look at their website here.
We also recommend the appartments near Lefkada called Ionian bay, look at their website here.
All are run by friends and we are sure they will make your stay unforgettable!